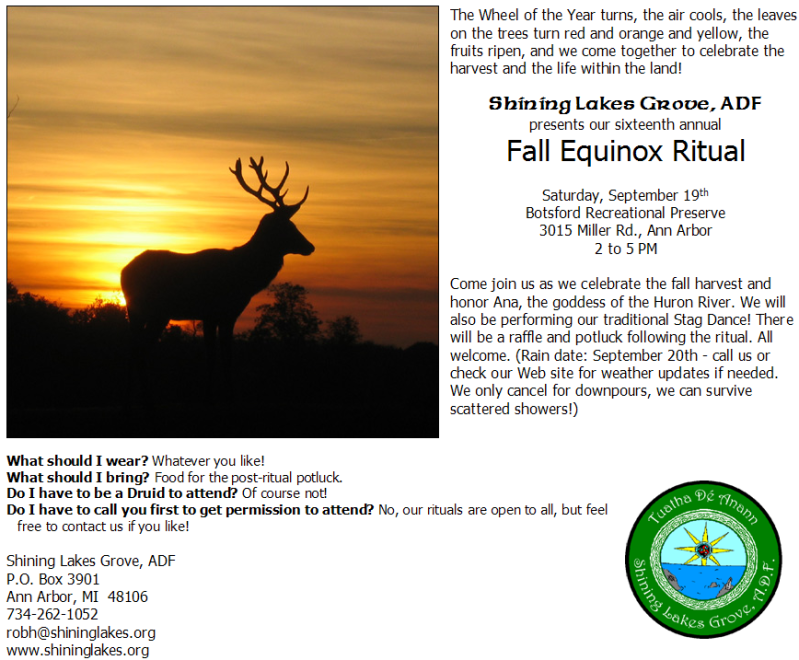 The Wheel of the Year turns, the air cools, the leaves on the trees turn red and orange and yellow, the fruits ripen, and we come together to celebrate the harvest and the life within the land!
Shining Lakes Grove, ADF
presents our sixteenth annual
Fall Equinox Ritual
Saturday, September 19th
Botsford Recreational Preserve
3015 Miller Rd., Ann Arbor
2 to 5 PM
Come join us as we celebrate the fall harvest and honor Ana, the goddess of the Huron River. We will also be performing our traditional Stag Dance! There will be a raffle and potluck following the ritual. All welcome. (Rain date: September 20th - call us or check our Web site for weather updates if needed. We only cancel for downpours, we can survive scattered showers!)
What should I wear? Whatever you like!
What should I bring? Food for the post-ritual potluck.
Do I have to be a Druid to attend? Of course not!
Do I have to call you first to get permission to attend? No, our rituals are open to all, but feel free to contact us if you like!
Shining Lakes Grove, ADF
P.O. Box 3901
Ann Arbor, MI 48106
734-262-1052
robh@shininglakes.org
www.shininglakes.org